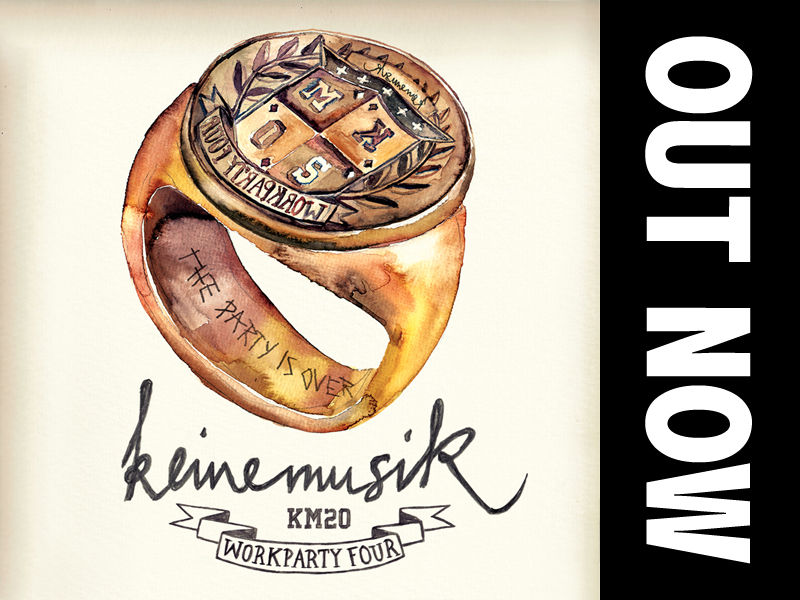 Workparty Four (KM020) OUT NOW!
[lang_de]
Wie haben wir uns auf diesen Tag gefreut! Ab heute Mittwoch den 20. November 2013 gibt es die Workparty Four für alle.
Dieser vierte Crewsampler ist die 20ste Platte auf Keinemusik und steht für eine Entwicklung, deren Zeitraum uns selbst natürlich viel länger vorkommt als ein paar Jahre. Viele von euch waren von Anfang an dabei und wir wissen, was wir euch zu verdanken haben. Entsprechend haben wir uns mit viel Ehrgeiz an diese Jubiläumsausgabe herangemacht.
Vom Siegelring flankiert werden vier Tracks, die unseren aktuellen Stand der Dinge repräsentieren. Auf Vinyl gepresst und mit weiteren Details veredelt ist auch etwas für die Ewigkeit mit dabei. Die bereits vergebene Testpressung in schwarzem Gold wird mit etwas Vorsprung die erste KM020 sein, die dort draussen auf dem stählernen Teller landet. Die Vinyl Jubiläumsausgabe wird in diesem Augenblick versandfertig gemacht und sollte ab sofort jeden Moment in den Stores eintreffen. Bestellt werden kann schon jetzt auf DEEJAY.DE.
Noch bevor es in unserem KM Shop, auf iTunes und allen anderen Kaufportalen los geht gibt es "Machinedrum Calypso", "Think", "Burana" und "AY" wie immer für 14 tage exclusiv auf Beatport. Wenn ihr happy seid sind wir es auch – Wir sind bald zurück mit mehr News!
[/lang_de]
[lang_en]
20 x 20 x 2013… How have we been looking forward to this day! From now Wednesday November 20th 2013 our Workparty Four is available to everyone.
This fourth crewsampler is the 20th release on Keinemusik and stands for a process we ourselves cannot believe has lasted only a few years. Many of you have been there from the start and we know what we have to thank you for. Accordingly we approached this anniversary issue with quite some ambition.
Flanked by the symbolically valuable signet ring, these four tracks represent our current state of affairs. Pressed on Vinyl and apparelled with even more crucial details there is also something in for eternity. The test pressing of black gold which we gave away just recently may actually be the first vinyl on the wheels of steel out there. The KM020 vinyl edition is being prepared for shipping at the very moment and should arrive in stores at any time from now. To order, please consult DEEJAY.DE.
Before we're getting things started in our KM Shop, on iTunes and all the other selling platforms, "Machinedrum Calypso", "Think", "Burana" and "AY" will follow the usual procedure and be available for 14 days exclusively on Beatport. We are happy if you are happy – We'll be back with more news soon. Stay tuned!
[/lang_en]
▶ Get Workparty Four on Beatport
▶ Get vinyl on DEEJAY.DE
▶ Keinemusik on Facebook: Adam Port /// &ME /// Rampa /// David Mayer