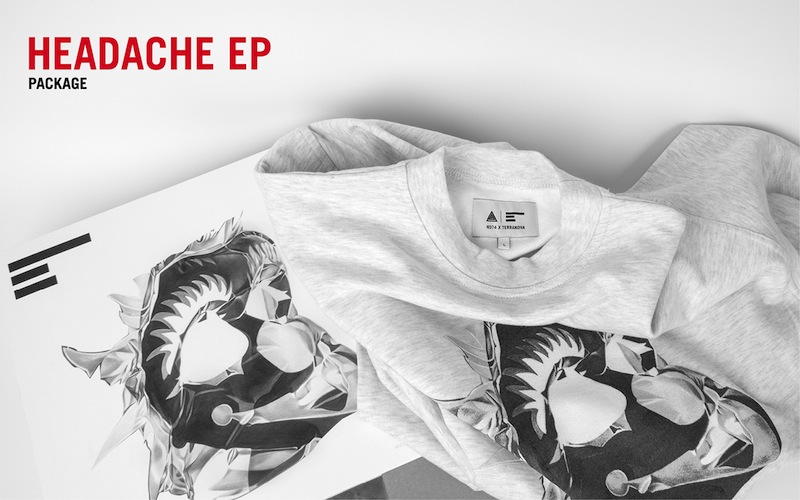 Terranova Headache Package Release Showcase
[lang_de]
Am Donnerstag laden No74, Terranova und Kompakt ein, um gemeinsam das Release der zweiten No74 x Terranova Kollaboration anlässich der neuen Headache EP zu feiern. Das limitierte Produkt-Package enthält ein Sweatshirt mit dem Artwork von Marc Brandenburg und eine 12″ Pressung der Headache EP. Das ganze wird ab 8. Mai exclusiv im No74 erhältlich sein. Wer Lust hat kommt auf ein paar Drinks und für etwas Musik vorbei!
[/lang_de]
[lang_en]
No74, Terranova and Kompakt Records are proud to announce the release of the second No74 x Terranova collaboration – a limited edition product package to celebrate the recent release of the Terranova Headache EP. The Headache EP package will be released on the 8th run of 74 and will be exclusively sold through No74 on Torstrasse.
This limited edition contains a sweatshirt bearing the EP's cover art designed by Berlin artist Marc Brandenburg, and a 12" pressing of the Headache EP. Marc Brandenburg a Berlin native and long time friend of Terranova contributes by offering another artwork that captures the whimsy and grit that helped give birth to the Berlin club scene.
Headache brings to the listener a densely textured collection of highly addictive beats, after the sublime sophistication of the Painkiller EP (KOMPAKT 262) the new material pushes the spectrum back into more rugged club territory, showcasing the sort of sonic urgency and rawness the legendary Terranova project has become known for in the first place. Kompakt as a label has been linking the past, present and future of house and techno sound for over fifteen years and continues to do so with Terranova's latest release.
[/lang_en]
Adresse: Torstraße 74, 10119 Berlin