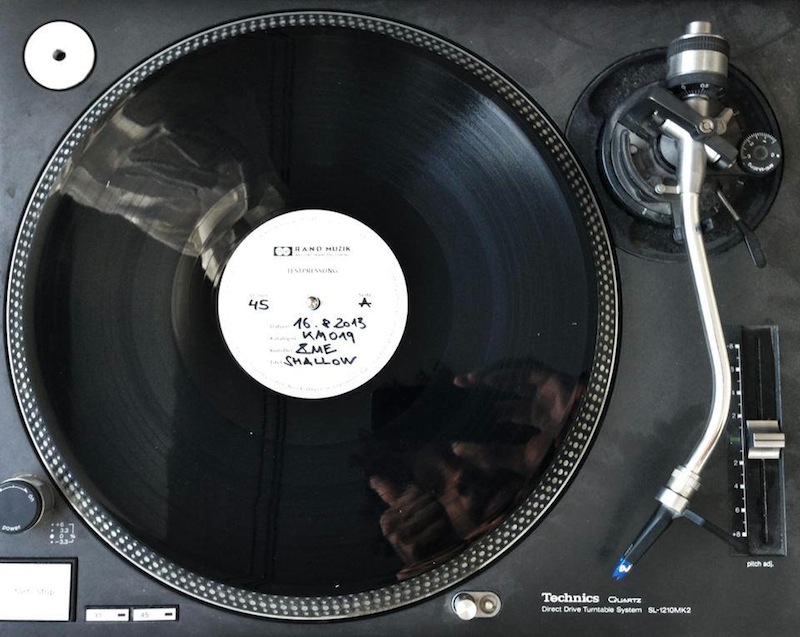 KM019 Out Soon – Win Testpressing!

[lang_de]
Wer oben schon reingeklickt hat weiß, was hier gespielt wird. &ME ist im Tool-Haus! Die beiden Tracks "Shallow" und "Heist" ergeben zusammen die nächste KM-EP. Stichtag ist der 16. August, dann schlägt die Digitalversion in den Online-Stores auf. Die KM019 Vinyl wird in diesem Moment versandfertig gemacht und kann ab sofort auf DEEJAY.DE und DECKS.DE vorbestellt werden.
Auf dem Weg zur Vinyl ist die Testpressung ein entscheidender Faktor. Sie dient als Muster für die Serie und steht entsprechend ganz am Anfang, sozusagen als absolute Erstgeburt. Bevor also eine Platte in Serie geht, erstellt das Presswerk eine Testpressung und verschickt sie an das Label. Hier wird die Scheibe unter genauem hinhören abgespielt und final begutachtet. Wenn alles in Ordnung ist und der Klang den Vorstellungen des Labels und der Artistst entspricht bekommt das Presswerk sein GO.
Diese Muster sind normalerweise unverkäuflich, doch ihre Einzigartigkeit macht sie für uns zu einem perfekten Geschenk. So bleiben wir auch dieses Mal unserem Release-Ritual treu und geben das gute Stück an Euch weiter! Für das Rennen um den Gewinn ist die Comment-Section unter diesem Beitrag die ideale Rennbahn. Schreibt uns also einen Kommentar genau hier, unter diesen Post auf unserem Blog. Beim Schreiben bloß keine Hemmungen, lasst es raus 😉 Vergesst bitte nur nicht, eine Gültige E-Mail-Adresse anzugeben.
Die Verlosung endet am Montag den 12.08! Der Gewinner wird dann hier auf dem Blog bekanntgegeben und per E-Mail benachrichtigt… Viel Glück!
[/lang_de]
[lang_en]
If you have alrady clicked above, you know what game is played here. &ME is in the toolhouse! The two tracks "Shallow" and "Heist" make the next KM-EP complete. The appointed Date is August 16th, that's when the digital version hits the stores. The vinyl version is being prepared for shipping at this very moment and can be preordered on DEEJAY.DE and DECKS.DE already.
On the Way to a vinyl release, the testpressing is a crucial factor. It serves as the serie's prototype and hence marks the very beginning, as the first born, so to say. So before a record enters mass production, the pressing plant will always send a testpressing to the label for approval. Here the record will be listened to carefully, and if there are no issues and the sound accords to the ideas of the label and artists, the pressing plant will get its GO.
Usually these Prototypes are nonmarketable. But its inimitability makes the testpressing a perfect present. So just as our release-ritual demands, we will pass it on to you! In the competition on the prize, the comment-section underneath this blogpost will serve as the racetrack once again. Write us a comment right here on our blog, right underneath this article. Don't be shy writing, just let it all out 😉 But please don't forget to leave a valid e-mail address.
The raffle will end Monday August 12! The winner gets an e-mail and will be announced here on the blog… good luck!
[/lang_en]