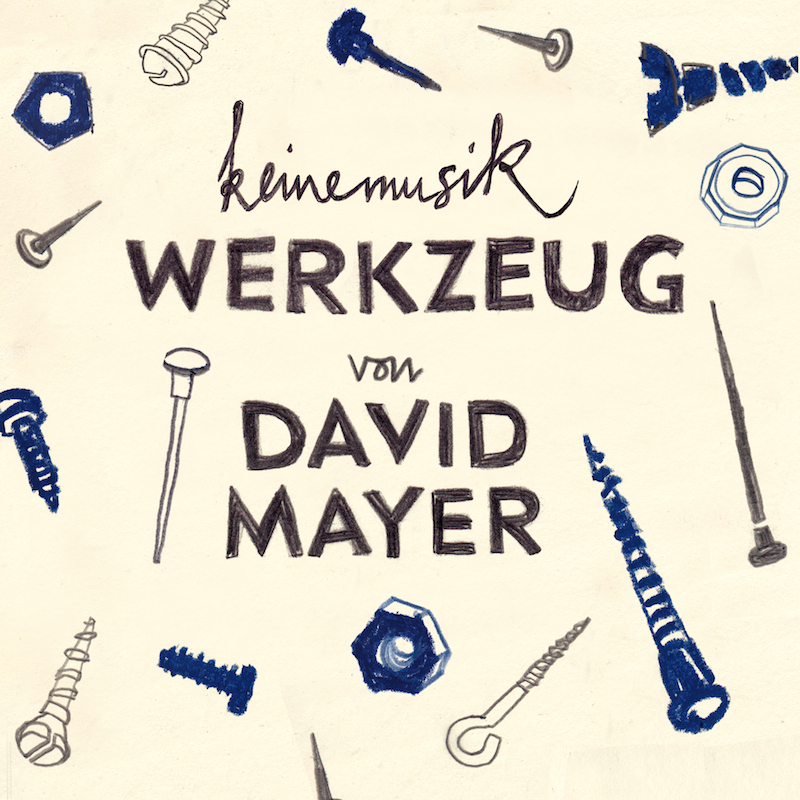 Keinemusik Werkzeug von David Mayer – OUT NOW
[lang_de]
Nach 23 EP-Releases schlägt die heutige Keinemusik-Veröffentlichung Aufsehen erregend aus der Reihe und macht dabei unzählige spektakuläre Geräusche. Es ist eine Sound(schleifen)sammlung, oder neudeutsch: ein Samplepack, zusammengestellt von David Mayer.
Die Sammlung umfasst 15 Ordner. Darin stecken ca. 600 MB Samples, insgesamt 701 Dateien, One-Shots, Sounds und Loops. Es sind komplett selbst erstellte, unter Benutzung von Analog- und Modular-Hardware erzeugte oder live in der Aufnahmekabine recordete Sounds, die sich an die von Mayers eigenen Produktionen bekannten Ästhetik anlehnen. Das Pack steht also in direktem Zusammenhang mit seinen persönlichen Vorlieben: Perkussive, rohe, simple Sounds. Der Schwerpunkt liegt auf einzelnen, trockenen Hits und angerauhten Klängen sowie minimalistischen, kombinierbaren Hi-, Lo- und Percussion Loops.
In unzähligen Nachtsessions aufgenommen und in Wochenlanger Kleinarbeit ausgewertet, überarbeitet und gemastert steht das 'Keinemusik Werkzeug Eins' von David Mayer nun ab sofort exklusiv in unserem KM Shop zum Download bereit. Im ZIP enthalten sind sowohl 44.1kHz/24 Bit WAVs als auch AIFFs, alle Files sind in Stereo, die Loopgeschwindigkeit ist den Standards des Urhebers entsprechend 123bpm… An dieser Stelle sei abermals unserem Klang- und technik-Mentor Marcel NGHT DRPS Kussel für all seine Hilfe und Unterstützung gedankt!
Zum Download geht es hier: http://keinemusik.com/shop/werkzeug-von-david-mayer
Wir hoffen, dass Euch der ein oder andere Sound gefällt und inspiriert. Viel Spass damit!
[/lang_de]
[lang_en]
After 23 EP-releases today's Keinemusik publication breaks ranks, making spectacular noises. It is a sound(loop)collection, or rather a samplepak, assembled by David Mayer.
The collection consists of 14 folders, containing close to 600MB of samples, alltogether 701 files, one-shots, sounds and loops. All the core sounds are handcrafted, created by use of analogue and modular hardware or recorded live in the booth. The sound correspond directly with Mayer's personal preferences when making music, so the pack is based on rough, percussive and simple sounds. The focus lies on single, dry hits and heavily roughened noises and minimalistic, combinable hi-, lo- and percussion-loops.
Recorded in countless nightshifts, painstakingly evaluated, processed and mastered over weeks, the 'Keinemusik Werkzeug Eins' by David Mayer is now exclusively available in our KM shop ready for download. Contained in the ZIP are 44.1kHz/24Bit WAVs and AIFFs, all in stereo, loopspeed is 123 bpm… At this point, 1000 thanks again to our creative partner and technical mentor Marcel NGHT DRPS Kussel for his helping hand!
Find the download here: http://keinemusik.com/shop/werkzeug-von-david-mayer
We hope that these sounds may show useful and inspiring to you. Enjoy!
[/lang_en]